Sage 50 HK : Peachtree 2021 & 2020 Accounting Consultants in Hong Kong
Enquiry 3126 5003




No. 1 Accounting software
in Hong Kong



** Sage 50 Peachtree 2021 & 2020**

**************************************** Sage 50 Peachtree
香港獨家總代理 祝賀Centrolink Solutions Limited www.centrolink.com.hk 獲委任Sage 50 Peachtree
香港獨家總代理

***************************************** ***************************************** 感謝客戶長期支持
回饋客戶大行動

免費軟件升級新2021 & 2020版獨家推廣配套,拒絕2019及舊版本

新版Sage 50 Peachtree 2021 & 2020-大量現貨
Premium 2021 & 2020:
1, 2, 3, 4 或 5 用戶產品
優惠大減價 益用家
零售店鋪價格高!
支援諮詢皆欠奉!
免除門市中間利益!
Sage 50 US (Peachtree)
Official Website announcement

美國官方網站公告





**Sage官方通告 2019版及舊版本 正式退休**

Sage 50 US (Peachtree)
Official Website announcement

美國官方網站公告

**Sage官方通告 2019版及舊版本 正式退休**




**Sage官方通告 2019版及舊版本 正式退休**
**************************************
限時推廣:-
美國原廠盒裝軟件
*新Sage 50 Peachtree Pro 或 Premium 2021 & 2020
正版軟件一套,免費資料轉換, 安裝及培訓
(重點實用必修課程助你按部就班快速開帳
全盤記帳得心應手)
兼享一年操作支援服務, 限量優惠
(另可單購軟件-超優惠)
限量優惠,售完即止

完全不經門市,
更可免除第三方中介成本利潤
保證更平更直接。
**************************************************

直銷代理做得到的超級優惠
直銷熱線 3126 5003

全新優惠推廣*限量發售*
兼享一年操作支援服務, 限量優惠
***********************
官方授權直銷專業推廣優惠,獨家保證給你最全面和實際五星級的承諾
Sage50 最強代理
頂級專業保證承諾,獨家5星保證
(1)*美國Sage最新2021 & 2020正版正貨保證
(2) *2021 & 2020新版
專業安裝保證


本公司客戶凡購買新版2021 & 2020,首次安裝加送兩個月安裝保證期
(3) *
2021 & 2020新版專享免費資料維修


本公司客戶凡購買新版2021 & 2020專享三個月內免費資料維修服務一次
(4) *2021 & 2020新版專享免費資料升級


本公司客戶凡購買新版2021 & 2020,可享免費資料升級一次
(5) *2021 & 2020新版實用必修課程,半價優惠


凡報讀課程之客戶,第二位參加者可享半價優惠
另加送半小時課後研討
課後支援保證一個工作天內回覆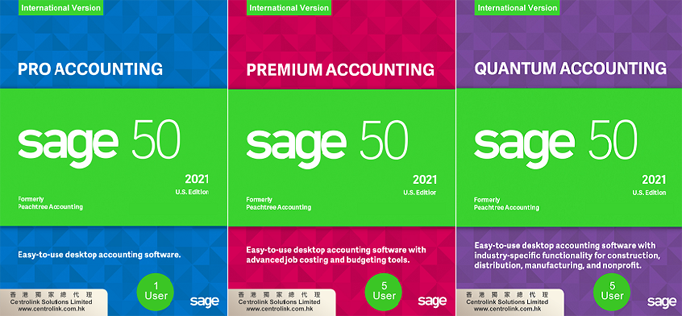 Including free one year(12 months)
telephone, email and fax support after Cantonese training
Place your order now--- Don't wait
本 公 司 所 有 培 訓 課 程;
******** *****
均 由 本 公 司 專 業 Sage 50 HK: Peachtree (Master) 總 顧 問 教 授 , 信 心 保 証 , 並 沒 有 委 托 任 何 教 育 機 構 參 與 協 辦 課 程。


Sage 50 HK: Peachtree Master Consultants



Sage 50 HK: Peachtree Accounting Professionals is an independent Sage 50 HK: Peachtree accounting software consultancy groups in Hong Kong, specialising in Sage 50 HK: Peachtree software and industrial accounting solutions knowledge. It's all we do, so after spending years learning about international accounting systems so that you don't have to, we know a thing or two about them. Many companies spend many hundreds of hours wrestling with any number of issues concerning their accounting data. We can help you to dramatically shorten the learning curve involved, through consultancy, training and Sage 50 HK: Peachtree products.
We have researched and specialised in Pechtree Accounting software training and management for over 15 years. We have written reports on manufacturing , construction , distribution, trading, garment and other related to Sage 50: Peachtree accounting products
Our groups have teaching experience for more than 25 years, involving Vocational Training Centre, Welkin Computer Training Centre, The Hong Kong Federation of Trade Union's training centre ,government school, ....... and will tackle, almost any accounting project involving any accounting system, however large or small - we are happy to help even of you require only a couple of hours of consultancy to resolve accounting queries. Don't hesitate to Contact Us.
Sage 50 HK: Peachtree 2021 & 2020

New, Powerful Database


Enhanced Integration with Microsoft Excel


Improved Reporting Capabilities


More Intuitive Navigation


Reporting Improvements


Forms Design Improvements


Flexible Unit and Quantity Decimal Settings


Add Attachments


Hide Navigation Centers


Saving Records and Transaction Performance



Industry Solutions 2021 & 2020


Designed to help improve operations and streamline processes,


Sage 50 HK: Peachtree's Industry Solutions provide an affordable, complete


business management solution.